President Joe Biden on Sunday revealed why he decided to avoid a joint press conference with Russian President Vladimir Putin in Switzerland next week.
"I always found, and I don't mean to suggest the press should not know, but this is not a contest about who can do better in front of a press conference or try to embarrass each other," Biden told reporters at a press conference at the Cornwall Airport Newquay in England.
"It's about making myself very clear what the conditions are to get a better relationship are with Russia."
In 2018, when President Donald Trump met with Putin in person and held a joint news conference, corporate media outlets launched attacks against Trump and suggested the joint appearance meant the two had a cozy relationship. It came in the midst of then-special counsel Robert Mueller's investigation into whether Trump's campaign colluded with Russia during the 2016 election. Mueller, after a 22-month investigation, ultimately turned up "insufficient evidence" to support the allegations.
"I think the best way to deal with this is for he and I to meet, he and I to have our discussion. I know you don't doubt that I'll be very straightforward with him about our concerns and I will make clear my view of how that meeting turned out and he'll make clear from his perspective how it turned out," Biden also said on Sunday.
Biden then seemed to make reference to the possibility that the meeting would trigger rampant speculation from the press.
"I don't want to get into being diverted by, did they shake hands, who talked the most, and the rest," he said.
During the Group of Seven (G7) summit on Sunday, the president said he would raise concerns during his meeting with Putin.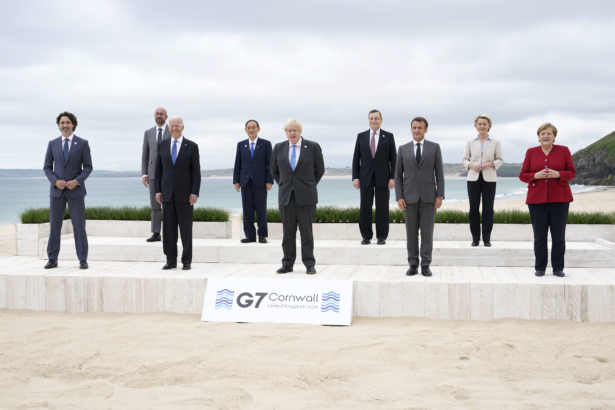 "We are not looking for conflict. We are looking to resolve those actions which we think are inconsistent with international norms, number one," Biden remarked. "Number two, where we can work together, we may be able to do that in terms of some strategic doctrine that may be able to be worked together, we're ready to do it."
When asked about whether he believes that U.S.-Russia relations are at a low point—something Putin had said in recent days—Biden said that "I think he's right it's at a low point."
"It depends on how he responds to acting consistent with international norms," Biden said, "which in many cases he has not."
But Biden said the poor relationship was the fault of Russia and again alleged Moscow engaged in malign behavior during U.S. elections as well as cyberattacks against American infrastructure and industries. Biden also said, without providing details, that Putin was directly responsible for an unspecified cyberattack.
"I checked it out. I had access to all the intelligence. He was engaged in those activities—I can respond to that," Biden told reporters on Sunday. "This is not a contest about who can do better in a press conference, embarrass each other. It's about making myself very clear what the conditions of our relationship are."
The White House placed new sanctions on Russia following the sweeping SolarWinds breach and for alleged interference during the 2020 election. The FBI said that Russia-based groups were behind the SolarWinds cyberattack, which affected several federal agencies.
The Department of Defense, meanwhile, authorized $150 million in defense aid to Ukraine last week amid renewed tensions between Kyiv and Moscow over the Donbas region. Earlier this year, there were large military movements of Russian troops and armor toward the eastern Ukraine border and into Crimea, sparking fears of a wider war—although, in April, the Kremlin signaled that it would attempt to deescalate tensions by withdrawing some of its forces.
From The Epoch Times